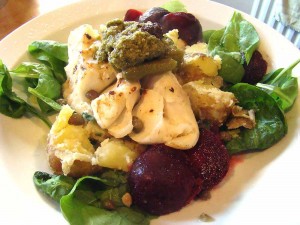 Roast Cod with Pesto on a bed of spinach and crushed new potatoes with fresh beetroot
This simple cod dish allows the cod to be itself, but with added a Mediterranean flavours and a few other surprises on the way.
Cod is a fantastic fish, which sadly is in fear of becoming over fished.  It is soft and delicate in flavour if cooked right. All too often it is cooked badly.
There is a long time argument of Haddock or Cod, which I often have in the pub with friends, over which is the best – I say both – as both have different tastes. Often the cod is dismissed as the haddock has a stronger flavour.
In this recipe the cod is gently roasted in a type of lemon and butter court bouillon to prevent drying out and is served with interesting but simple and tasty sides.
Ingredients:
For 2
500g of thick end of cod, skin on (try to buy your fish skin on as it keeps the fish together – unless your making fish pie etc.) – ask for the pin bones to be removed and cut in half
2 lemons
New potatoes
A pack of fresh non pickled beetroot
A bag of spinach
Make your own pesto or buy a good quality one
Capers and cornichons       (Cornichon –a French type of small gherkin)
Method:
In a skillet (or oven proof pan) melt some butter and add some oil
Prep your pots and boil
Remove the beetroot from the pack and wash in warm water – warms it up and stops it from staining ever where – slice it
Place your cod in the pan skin side down and cook for a few minutes – take care not to stick
Squeeze a lemon over the cod and add hot water – place the cut lemon in the pan as well
Place the cod pan in a hot oven or under a hot grill
Baste and cook for 5 min – depending on the oven temp – check that it's not drying out – baste again
It should be just cooked through by now –
A note on cooking cod –
Check it is cooked  by gently pulling a flake away and seeing if it's cooked. Cod is made up of large translucent flakes which should just separate – cooking fish perfectly is not an exact sport and is dependent on the temp and thickness of cod – so there is no set time for it– over cooked cod tastes and feels just like cardboard, dry and hard – you should be able to pull each flake away, hold it up and almost see through it – moist and sweet – a delicate flavour (this is maybe where people are let down by badly cooked cod – or frozen)
if they don't separate well give it a few more min and baste with the lemon, butter mix
While this is happening flash fry half the spinach – a load of water will come out of it
Drain and cut up the pots – adding olive oil and butter and season
Serving:
Place the cooked spinach down on the plate, add the crushed pots, sprinkle the rest of the spinach around the outside of the dish, arrange the beetroot around the side also – palce the cod onto the top of the pots
Add a spoonful or two of pesto onto the top of the cod and sprinkle capers and cornichons around to your taste.
Serve and enjoy…