Winter Pheasant & Partridge casserole – a hearty casserole dish
Why not use this seasonal game in a tasty casserole?
Don't be put off by it's gamey flavour – it isn't at all gamey if you just hang it for only 2 or 3 days form it's hooting date.
They make great curries as well – a cross between chicken and beef in texture.
Pheasant season is Oct 1 – Feb 1 and Partridge is Sep 1 – Feb 1 (England and Wales)
Pheasant can be a very hard and dry meat to eat – if you just roast it like a chicken – partridge is slightly better, but can still be tough.
By casseroling these meats they become tender and make great flavours – works well with Grouse as well…
To start with either ask your butcher to sort out some Partridge and Pheasants breasts for you or go to www.dalelicious.co.uk/casserole/preparing-pheasant-easy-way/  and do it yourself.
You can use the legs as well – but they are not really required for this recipe.
Like all recipes – this is merely a guide and alter it according to your taste…. it's not carved in stone.
ingredients:
For 4 people or 2 big servings –
2 pheasants (preferably 2 hens – breasts are smaller and more tender) – breasts stripped out
2 partridge – beasts stripped out
Pancetta – or 4 slices of streaky bacon – use smoked if you want that flavour. (this increases the fat content aa well as adding flavour)
Medium onion and carrot and 2 sticks of celery (optional) – and garlic – all finely chopped
1 tin tomatoes (can be made without tomatoes)
Squeeze of tomato puree
Red current jelly
Cranberry jelly
Red wine and chicken stock – (can be made with out the red wine – but it adds to it)
Bay leaf and herbs of your choice – thyme works well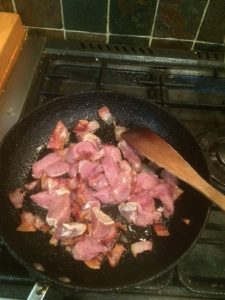 Method:
On a medium heat in a pan – Fry the pancetta or streaky bacon until browned
Add the onions and carrots – finely chopped  – cook for a few minutes and add the garlic, for 1 minute (don't burn it)
Chop up the breasts quite small (less than 1/2 inch cubed)  – do not be tempted to leave them large as it will be dry and hard
Add the breasts to the pan – and add some sunflower oil if you think there is not enough fat in there – fry until colored
Add 1 tin tomatoes a Squeeze of tomato puree – stir
Add Red wine and chicken stock – bring it all to the boil stirring
Add a couple of teaspoons of Red current jelly and Cranberry jelly
Add Bay leaf and herbs of your choice – thyme works well
Turn it into a casserole dish and cook for 2 hours at gas 2 – low heat…
Keep checking it doesn't dry out – add water if required.
Serving it:
Serve with veg of your choice – mashed potato, green beans work well