Banana Matcha Cookies – Louisa Rose 
Many thanks Louisa Rose of bodyhealthlove for this recipe…

Matcha green tea is soaring in popularity all over the world thanks to its powerful health benefits. It contains a host of nutrients such as antioxidants, polyphenols and theanine, and including it in your diet can help boost your immune system as well as your energy.
My simple recipe for Banana Matcha Cookies offers the perfect way to enjoy this wholesome green tea in a nutritious snack.
Matcha Powder
This aromatic, dark green powder is made of finely ground tea leaves, and is often used in Chinese and Japanese tea ceremonies. It's grown away from sunlight to increase its chlorophyll content, which is known to relieve muscle and joint pain as well as common digestive issues.
It's also an important source of polyphenols which have an antimicrobial and antifungal effect, and help your body fight infections. Other perks include smooth, glowing skin and improved levels of concentration.
Spelt Flour
Spelt flour has a slightly sweet nutty taste, and is similar to whole wheat flour. It can substitute wheat in many recipes, and is often prefered due to its higher protein and mineral content. It's also slightly lower in calories, which is an added bonus.
It's a healthy source of carbs, fiber and other essential nutrients, and contains gluten which is easier to break down than the gluten found in wheat.
Virgin Coconut Oil
Coconut oil has many uses, both in cooking and health and beauty. It's great for your hair and skin, and can be used as an alternative to other vegetable oils and butter.
It has a high content of medium chain fatty acids, which experts suggest is easily broken down and turned into energy. It's considered to aid with weight loss as it keeps you feeling fuller for longer, and can also help reduce cholesterol and heart disease.
Coconut Sugar
This is a more natural alternative to processed sugar, and retains some essential nutrients such as iron, zinc, calcium, potassium and antioxidants.
It's made by heating up the sap from coconut palm trees. The water content evaporates,  and the product that's left is known as coconut sugar or coconut palm sugar. Although it sounds very similar, it is a different substance to palm sugar.
Banana
Bananas make a tasty addition to baking recipes, and are a healthy source potassium, fiber and Vitamins B6 and C. They also contain bioactive compounds such as dopamine and catechin, which work as powerful antioxidants to protect your body from damage caused by free radicals.
Pink Himalayan Salt
Why choose this salt over common table salt? Pink Himalayan salt contains over 84 minerals, including calcium, potassium, magnesium copper and iron, and is considered to have many nutritional and therapeutic properties. At over 99%, it's one the cleanest and healthiest salts in the world.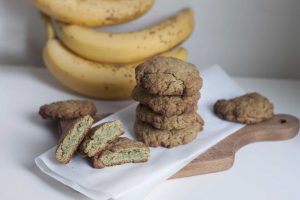 Ingredients (makes 10 cookies):
2 tsp Matcha Powder
1 1/2 cup spelt flour
2 tbsp virgin coconut oil
1 banana
4 tbsp coconut sugar
1 tsp baking powder
pink himalayan salt
Method
Preheat the oven to 180ºC / 355F, and line a large baking tray with greaseproof paper.
In a small bowl, mash the banana with a fork until it's completely liquid.
In a larger bowl, combine all the dry ingredients and a pinch of Himalayan salt.
Add the banana to the flour mixture, then pour in the coconut oil and mix well. Try to avoid overworking the dough, as the gluten in spelt flour easily breaks down.
When the dough is ready, it should be springy and easy to manage. If it feels sticky at all, add some more flour.
Divide the dough into small pieces, either by eye or by weighing them on scales, and roll into balls. Place them on the baking tray, and press down lightly with a fork.
To make perfect cookie shapes, you can roll the dough out with a rolling pin and then use a cookie cutter instead.
Bake in the oven for 10 to 15 minutes, when they're ready they should be a pale golden colour. Let them cool on a rack, and enjoy immediately or store them in a container with a lid.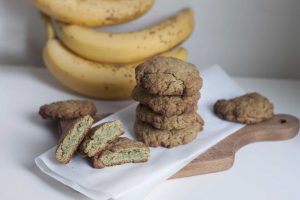 About The Author: Louisa Rose is 20 years old and from Cologne, Germany. Over the past two years, she has lived and travelled in Australia and New Zealand. Fed up with the bad advice she kept reading in beauty magazines, Louisa decided to start a personal blog called Body Health Love. This is her platform where she shares well-researched health and beauty advice aimed at educating and empowering young women across the globe to make the right choices in their beauty regime.