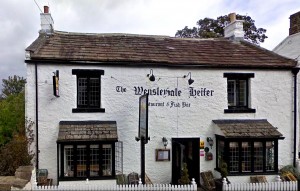 The Wensleydale Heifer – Yorkshire Dales' First Boutique Hotel
If you love Fish go here … Primarily a Fish Restaurant
The Wensleydale Heifer is situated in one of the most beautiful areas of the country, West Witton between Leyburn and Hawes, in the stunning Yorkshire Dales National Park, The Wensleydale Heifer offers high quality award winning dining, as well as luxury award winning accommodation.
We go to eat here on special occasions – and sometimes just for a treat…
It is en expensive place – but worth it. The food is great – especially the fish.
Food is excellent, service is excellent, pricey – yes but it's worth it –
be aware – they will add a 10% service charge automatically onto your bill – whcih you can request is removed if you're not happy to pay it.
Current –
The substantial lunch time menu has just been updated for 2016  – to include The Fish Club Sandwich – smoked salmon, Whitby crab, Greenland prawns, king scallops, haddock, roast salmon, king prawns all in baby gem lettuce on toasted granary  with a Marie rose sauce – served with skinny or fat chips…
Top Tips
For dinner on the cheap…
Go on their early bird supper – served from 6 – 6.30pm Mon to Fri – which is early, but you get a fantastic deal for not a lot of outlay…and you can always return for the full a la carte menu at a later date…(you can select from the a la carte menu on the early bird – but there is a supplement for doing so)
Go there for lunch…
They also have an extensive lunch time menu serving a range of meals at very reasonable prices for their high end cuisine…
Check it out at their web site
www.wensleydaleheifer.co.uk
The Wensleydale Heifer
West Witton
North Yorkshire
DL8 4LS