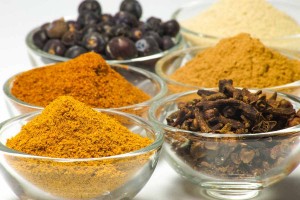 Chicken Tikka Masala
A curry of two halves – I have worked on this for years to get it to the point I wanted…
There is no standard recipe for chicken tikka masala; a survey found that of 48 different recipes the only common ingredient was chicken – so it's up to how yo want it…
The sauce usually includes tomato and either cream or coconut cream and yogurt and various spices.
There are 2 Masalas sauces and they are different – English and original – the chicken is the same –  chicken tikka, marinated in spices and yogurt, then baked in a tandoor oven (if you have one), it's the masala sauce that differs.
1. the English version – for the British palate – sweeter with the addition of sugar, coconut more cream, yogurt and definitely very mild and the use of red food dye… (no one knows why)
2. the original version – very different with a more sour flavour created by additions of vinegar and tamarind, hotter and not sweet…
Both, however may be termed as a curry of two halves –  chunks of chicken marinated in spices and yogurt cooked (the chicken tikka – which maybe eaten a=on it's own) – set in a rich tomato sauce – basically it's chicken in tomato sauce.
Rule 1 – never use the Tikka marinade in the masala sauce and certainly marinade the chicken for 24 hours if possible. Don't be tempted…

Having taken note of the above statement – here is no standard recipe for chicken tikka masala –  Currently I have 2 sets of ingredients I'm working between the 2 – these are NOT carved in stone and are guides – and certainly adapt the quantities to suit your palate.
The recipes need adaption.
Tikka masala the Britsh way –
Tikka marinade
60ml plain yogurt
2 teaspoons garam masala
2 teaspoons paprika
1/2 teaspoon freshly ground black pepper
1/2 teaspoon salt
1/2 teaspoon cayenne pepper
1/2 teaspoon ground coriander
450g skinless chicken breast fillets, cut into 2cm strips
3 tablespoons vegetable oil
1 teaspoon cumin seeds
1 large onion, chopped
3 cloves garlic, minced
Masala sauce
1 tablespoon grated fresh root ginger
2 green chillies, minced – optional
2 or 4 ripe tomatoes, diced
130g tomato puree
60ml water
1 teaspoon garam masala
1/2 teaspoon ground coriander
1/2 teaspoon ground turmeric
120ml cream
1/2 teaspoon salt, or to taste
1/2 bunch fresh coriander for serving
Coconut block – to taste
Yoghurt
Ground almonds
Red food die – optional
Combine yogurt, 2 teaspoons garam masala, paprika, black pepper, 1/2 teaspoon salt, cayenne pepper and 1/2 teaspoon coriander in a large bowl. Add chicken strips and toss to coat. Cover and marinate in the fridge for 2 hours.
Preheat oven to 230 C / Gas 9. Grease a baking tray.
Place chicken strips on the prepared baking tray, leaving space between each piece; bake in the preheated oven until browned and no longer pink inside, about 10 minutes. Remove and set aside.
Heat vegetable oil in a large pan over medium heat. Cook and stir cumin seeds until lightly toasted and aromatic, about 3 minutes. Add onion; cook and stir until onion begins to soften, 4 to 5 minutes. Stir in garlic, ginger and green chillies and continue to cook until onion is browned, 15 to 20 minutes. Cook and stir tomatoes, tomato puree and water into onion mixture until tomatoes begin to break down and incorporate into the onion mixture, about 10 minutes.
Cook and stir 1 teaspoon garam masala, 1/2 teaspoon coriander and turmeric into the tomato mixture. Mix in the cooked chicken; add cream and stir to coat. Cover and let simmer for 10 minutes. Season with 1/2 teaspoon salt and garnish with coriander.
and #2
Tikka
1 kilo (2 lbs.) chicken breasts – cut into bite sized pieces (tikka)
Juice of two lemons
1 tablespoon salt
250ml (1 cup) plain yogurt
2 tablespoons garlic puree
1 tablespoon ginger puree
1 tablespoon ground cumin
1 tablespoon ground coriander
1 tablespoon freshly ground black pepper
1 teaspoon citric acid powder
1 teaspoon turmeric powder
1 teaspoon salt (more or less to taste)
2 green chillies finely chopped
1 bunch of coriander leaves finely chopped
Masala
800g Tandoori chicken tikka (A link to my recipe is above)
2 tablespoons ghee or vegetable oil
4 tablespoons garlic and ginger paste
1 tablespoon cumin
1 teaspoon turmeric
1 tablespoon coriander powder
1 tablespoon dried fenugreek leaves – use powder
2 tablespoons garam masala
1 tablespoon paprika
1 tablespoon sugar (more or less to taste)
1 tablespoons tomato paste
2 or 4 Fresh tomatoes
700ml heated base curry sauce – long cooked onions
250ml double cream – to taste
red food colouring powder (optional)
1 small bunch fresh chopped coriander
Salt and pepper to taste
Juice of one lemon
Yoghurt – to taste
Coconut – to taste
Ground almonds – to taste