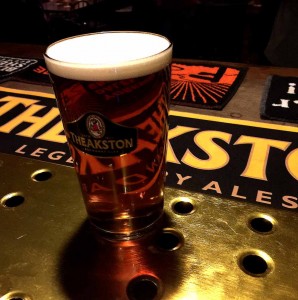 Theakston Best Bitter – 3.8% ABV
The "Quintessential English Bitter". How could I miss this out…
This is THE Yorkshire Beer – well one of them…
Theakston Best Bitter is the leading session ale within the Theakston portfolio and has been for time immemorial. It is quite possible that when Robert Theakston founded the brewery in 1827 the range of ales would have been limited to just two or three of which almost certainly, one would have been a bitter beer. Consequently it would be reasonable to argue that Theakston Best Bitter is one of the longest established session ales in Yorkshire.
When we refer to a 'bitter' beer, the term does not mean sour as in lemons, but dry as in 'dry white wine'. So Best Bitter is a full bodied, dry beer.
We use five different hop varieties to make our Best Bitter forming a complex but subtle taste profile. The combination of dryness as generated through the use of Target and Challenger hops, is balanced by sweetness created by the generous use of prime malting Barley providing the perfect accompaniment to a wide variety of food flavours as found in a Ploughman's lunch for instance.
Short description: The quintessential English mid strength ale – a perfect balance of malt and subtle hops.
Full Tasting notes: The definitive English Bitter. This fine golden-coloured beer has a full flavour that lingers pleasantly on the palate. With good bitter sweet balance, this beer has a subtle hop character described as citrus and spicy. It's a refreshing and very satisfying pint – noted for the aroma of its Fuggle hops and the dry hopping of Bramling Cross to add to its characteristic Theakston aroma.
It's a sweet zesty aroma with subtle fruits and gentle baked apples flavour leading to a warming finish that leaves you wanting more!
Colour: of the Warm Evening Sun…