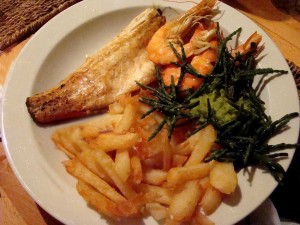 Pan seared Sea Bass with large Crevettes, Maris piper chips, pea puree and Samphire.
Let the ingredients do the talking – speak for them selves…
With this one we get the best ingredients and then do as little as possible with them.
The humble spud – not so – one of the key elements to perfect chips is the variety of potato.
So which ones?  The two varieties I recommend for the best chips are Maris Piper and King Edwards. Both are readily available at supermarkets at reasonable prices. You can use other excellent varieties for chips  Rooster, Sante (blight resistant) and Pentland Dell.
However I still maintain Maris Piper – number 1  and King Edwards –  number 2.
It's also about getting it to come together at the end…
Ingredients:
For 2 people…
2 fillets of sea bass
Maris Piper potatoes
Best quality frozen peas – eg. Birdseye (use fresh if you want but frozen are excellent) don't use poor quality
Shallots
Stock – chicken – good quality – watch the salt content
Samphire
Large Crevettes – fresh as you can get – if you want you can remove the vein – how to de-vein the prawn can be found on the web
Lemon
Method:
Remove the fish / prawns from the fridge at least 1 hour before cooking cook form room temp.
Pre-cook the chips by blanching them for 3 min in boiling water – do not allow them to go soft
Chop the shallots and soften in olive oil in a sauce pan
Add the peas and stock to just cover the peas – cook for 15 min covered – watch out for drying out – and then blend to your preferred consistency. Add more stock if too thick – cook further if too wet (watch out for burning it)
Heat you chip frying oil and add the chips
Warm up a heavy small cast iron skillet – add butter garlic and olive oil
place the prawns into the oil – when melted – and keep on a low heat – turning the prawns occasionally
Heat up a good quality pan and add a small amount of sunflower oil – do not use olive oil it can't take the temperature
just before the chips are browned approx 5 min before hand…
warm the pea puree – do not biol it – serve it skin temp to maximise flavour
dry the fish, lay skin side into flour and dust off excess by tapping it – do not flour the meat side
turn the pan up high and lay the 2 fillets of fish skin side down in the pan
tip – rattle the pan back and forth to prevent the fish form sticking and if it curls up (heat too high) flatten it down with a flexible turner and reduce the heat… or it will burn

fry for 3 min on the skin side until the skin is browned – caramelised – the flip over and fry for 1 min until browned
turn off the heat and leave while you plate up –
the chips, warm pea puree + samphire (no cooking required or you can blanch it)
plate up the sea bass and add the prawns
enjoy…