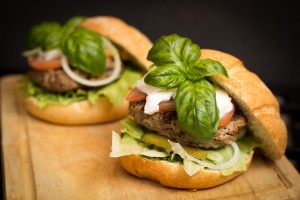 The Hybrid Burger
Ever made a burger and it turns out quite dry and lacking in flavour – this one won't.
Ingredients:
For 4 good sized burgers
3/4 lb Lean minced beef or Wensleydale minced lamb (why not use The Wensleydale Butchers best mince)
1 medium carrot
1 medium onion
1 clove of garlic – more if you like garlic
1/2 tsp ground coriander, ground cumin & a pinch of nutmeg
(If you want it hot add a few dried chilli flakes)
Salt and pepper to your taste
Method:
Gently fry the onions and garlic for 10 min until soft – take care not to burn the garlic…
Grate the carrot
Mix the lot in a bowl with the mince and add the spices and seasoning to taste
Give it a good kneading
Put it into the fridge for a couple of hours
Cooking:
Pre-heat a frying pan with a little oil in it – not too hot
Roll into 4 equal sized balls
Place into the pan then flatten them out using a turner to the thickness you require
Keep them on a low heat – we want them to cook through and not just burn on the outside
5 min each side should do it…but check by inserting a knife into the burger – observe the juices and feel
If they aren't "coloured" – browned then just turn the heat up to brown off
Serving:
Bread bun of your choice and salad….
Other ideas -The Hybrid Burger as a meat ball…
Make the burgers into small balls less than the size of a ping pong ball fry and include into a home made tomato sauce.
Eat with pasta of your choice.
Images are for illustration purposes only and may not represent the actual product.