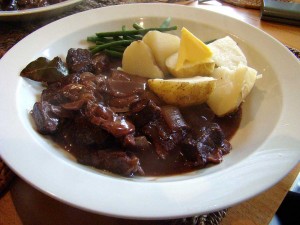 Boeuf Bourguignon the olde French classic
It's an olde – but a goodie. The dish originates from the Burgundy region (Bourgogne)and translates as literally 'Burgundy beef'. So simple yet so good and easy. Basically it's beef in red wine with mushrooms.
Ingredients:
For a good serving for 2:
1 Lb or 450 g of braising beef / stewing beef – I prefer a good cut, called lamb middle cut (it's not lamb, it just looks like a leg of lamb – hence the name)…but any cut will do
2 medium onions – one chopped fine, one chopped coarse
A few mushrooms, button are best
Thyme and bay leaf
Garlic – as much as you like
1/2 pint red wine or more…
Olive oil for frying
3 slices of bacon – optional
Method:
Fry the steak (and bacon if using) to colour it…place int the casserole pot
Fry the onion and the garlic – take care not to burn the garlic – it will taste bitter
Add the meat back to the pan
Add a level desert spoon of flour
Seasoning
Pour the red wine over and bring to the boil – make sure the meat is covered by the wine – add more if required
Transfer to the casserole – a thick stone pot is preferable
Fry the mushrooms and add to the pot
Cook for 2 2 1/2 hours on gas 2
Serving:
Serve traditionally with simple veg – pots, mashed, green beans and carrots.