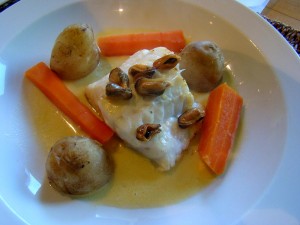 Roast Cod with Moules Marinière Broth
Looks simple- it is – but delicious…
Using the French classic – Moules Marinière as a broth to serve moist roasted cod… have it with home made chips or new pots and simple carrots…
You wouldn't normally associate a fish dish with The North Yorkshire Dales, as it's about as far from the sea as you can get in this part of the country… but every Tuesday the fish man, John, comes to the Hawes market and it's the only time of the week fresh fish can be bought. So Tuesday night is fish night. This is one of my own takes on the French classic – Moules Marinière.
Ingredients:
For 2 people…
500g of thick end of cod, skin on (try to buy and cook your fish skin on as it keeps the fish together – unless your making fish pie etc.) – ask for the pin bones to be removed and cut in half
1/2 kilo mussels
1 med onion coarsely chopped
2 cloves garlic
Double cream
Glass of White Wine
One fresh lemon
Method:
De beard, wash and clean the mussels in cold water if necessary – discard any that are already open – if in doubt throw it out!
(top tip– mussels need to breath and be cold, so they must be kept in a fridge, in a bowl with a piece of damp kitchen roll over the top. Do not put them away in a plastic bag. They will die.)
Cooking:
Mussels:
In a large pan melt a small knob of butter and some oil
Add the chopped onion and garlic and gently fry, being careful not to burn the garlic
Turn the heat up- add the wine
Add the mussels
Put the lid on and cook for no more than 3 minutes
The mussels will open
The sauce:
Remove from the heat
Pass the mussels etc. through a cullender – reserve the cooking liqueur in a bowl
Pour the cooking liqueur into a pan
(top tip – do not pour all the liqueur in. You will notice that in the bottom of the bowl there will be a small collection of sand etc. which you don't want in your sauce)
Add the cream
Remove the mussels for their shells and add to the sauce
Simmer the sauce gently
The Cod:
In a skillet (or oven proof pan) melt some butter and add some oil
Place your cod in the pan skin side down and cook for a few minutes – take care not to stick
Squeeze a lemon over the cod and add a little hot water – place the cut lemon in the pan as well
Place the cod pan in a hot oven or under a hot grill
Baste and cook for 5 min – depending on the oven temp – check that it's not drying out – baste again
It should be just cooked through by now – and still moist
A note on cooking cod –
Check it is cooked by gently pulling a flake away and seeing if it's cooked. Cod is made up of large translucent flakes which should just separate – cooking fish perfectly is not an exact sport and is dependent on the temp and thickness of cod – so there is no set time for it– over cooked cod tastes and feels just like cardboard, dry and hard – you should be able to pull each flake away, hold it up and almost see through it – moist and sweet – a delicate flavour (this is maybe where people are let down by badly cooked cod – or frozen)
if they don't separate well give it a few more min and baste with the lemon, butter, water mix
Serving:
Place the fish on a heated plate spoon over the Moules Marinière Broth, and a small squeeze of lemon
Serve with the classic home made thin chips (Moules et frites) or new pots and some simply cooked good carrots.