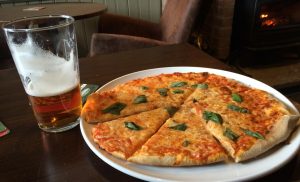 Pizza and a pint  at Aysgarth Falls Hotel
 Aysgarth Falls Hotel now have a pizza oven…
and are making a range of fresh pizza.
The bases are home made dough – not the frozen cardboard efforts some use – and the tomato sauce as well – no jars here, which makes for a great proper pizza.
There is a range of choices – at good prices… bearing in mind that you'd have to go a lot further – Richmond – to get a more authentic pizza… this is a great move which I'm sure others will copy.
For more information go to their web site www.aysgarthfallshotel.com