Black Sheep Best Bitter
Peppery hop in the mouth with a long, bitter finish.
The best pint of Black Sheep near to me can be found at The Farmers Arms at Muker – Upper Swaledale…
In fact all the beers at The Farmers are excellent and very well kept. The tasty excellent pub grub is very good value for money. Well worth a visit and a beautiful drive over – fantastic views and walks all around. Some of the best examples of wild flower meadows can be found around the back of Muker. More information…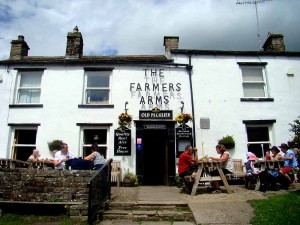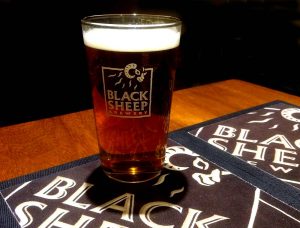 Black Sheep Best Bitter
Taste it – Peppery hop in the mouth with a long, bitter finish.
A classic well-hopped and beautifully balanced beer, with a deeply satisfying and refreshing taste that is followed by a distinctively dry and long bitter finish. Best enjoyed in true Black Sheep style, through a rich, creamy head.
Smell it – Fuggles hops against a malty background.
Eat with it – Best bitter is the perfect accompaniment for tender, red meat. The bitter flavour of the Fuggle hop lends a peppery characteristic which really complements full flavoured meats like Yorkshire Beef or Lamb. Try a warming stew or pie filling with an added splash of Best Bitter.
Making it – Maris Otter malted barley, the 'Rolls Royce' of malts. Although more expensive, an impressive 9/10 blind taste tests will identify and prefer beers brewed with Maris Otter.
Best Bitter uses a blend of whole hops including Challenger and Progress, with Fuggles as the main variety which gives the beer its bite and characteristic nose.
We use a touch of wheat which helps deliver the lovely creamy head and lacing down the glass – just what you would expect from a proper Yorkshire beer!